2023 EXHIBITION PROGRAMME
Until 1 April: Alastair Elkes-Jones, Malcolm Murphy, David Williams
6 April - 29 April: Coast Exhibition
Peter Cronin, Dai David, Thomas Haskett, Sian McGill, Peter Morgan, Paul Sims and Rhona Tooze
4 May - 27 May: Maggie Brown, Andrew Douglas-Forbes, Peter Monaghan
2 June - 24 June: Tom Hughes, Peter Kettle FRSA RCA, Chris Prout
30 June - 22 July: Eloise Govier and Penelope Timmis SWA
28 July - 9 September: SUMMER SHOW
15 September - 17 October: Martin Llewellyn
13 October - 4 November: Nick Holly and Nick Pritchard
10 November - 6 January 2024: WINTER SHOW
---
LATEST NEWS
A trio of artists who draw inspiration from the streets, landscapes and characters around them
Alastair Elkes-Jones, Malcolm Murphy and David Williams will be showcasing a collection of paintings from Friday, March 10 until Saturday, April 1.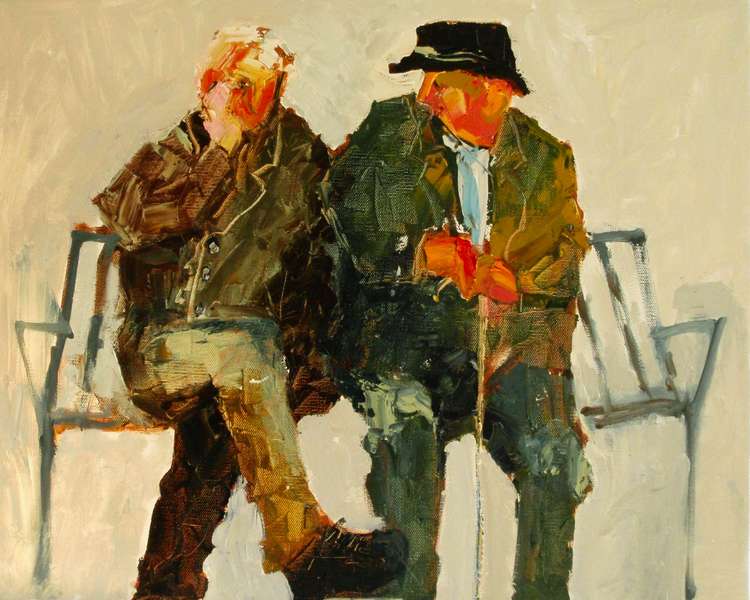 Alastair Elkes-Jones was born in Llangollen in 1942 and spent his childhood and formative years in the industrial and rural climate of North Wales. Since 1971 he has lived on the South Wales coast working at his studio in Mumbles.
He works primarily in oils, applying the medium with brush and palette knife, often onto canvas, building up the surface of the canvas with successive layers of paint. Finally, brushes are used to work both into wet paint and onto the drying layers of the under-painting to achieve a distinctive blend of texture and colour in the final work.
He says the subjects of his paintings for the Albany Gallery exhibition are the 'spirits' who helped him grow up artistically. However, the form the figures develop into on the canvas is entirely a work of imagination. They are not portraits, he says, but more an evocation of childhood. Memories of friends, family, neighbours, and strangers, forgotten yet so clearly remembered, who emerge out of the mysteries of forgotten time to once again say 'Hello.'
He says: "The people I paint are, to a greater or lesser degree, all known to me. They are the grown-up world of my childhood village - whilst sitting on our cottage front wall - the people I watched going about their lives, in conversation or off down the Co-op for something for tea.
"This also included a large farming community, sheep farmers in the hills surrounding Llangollen and Trevor, and the intrepid colliers returning from a shift at Bersham Colliery – faces black with ingrained coaldust before the installation of Pithead baths."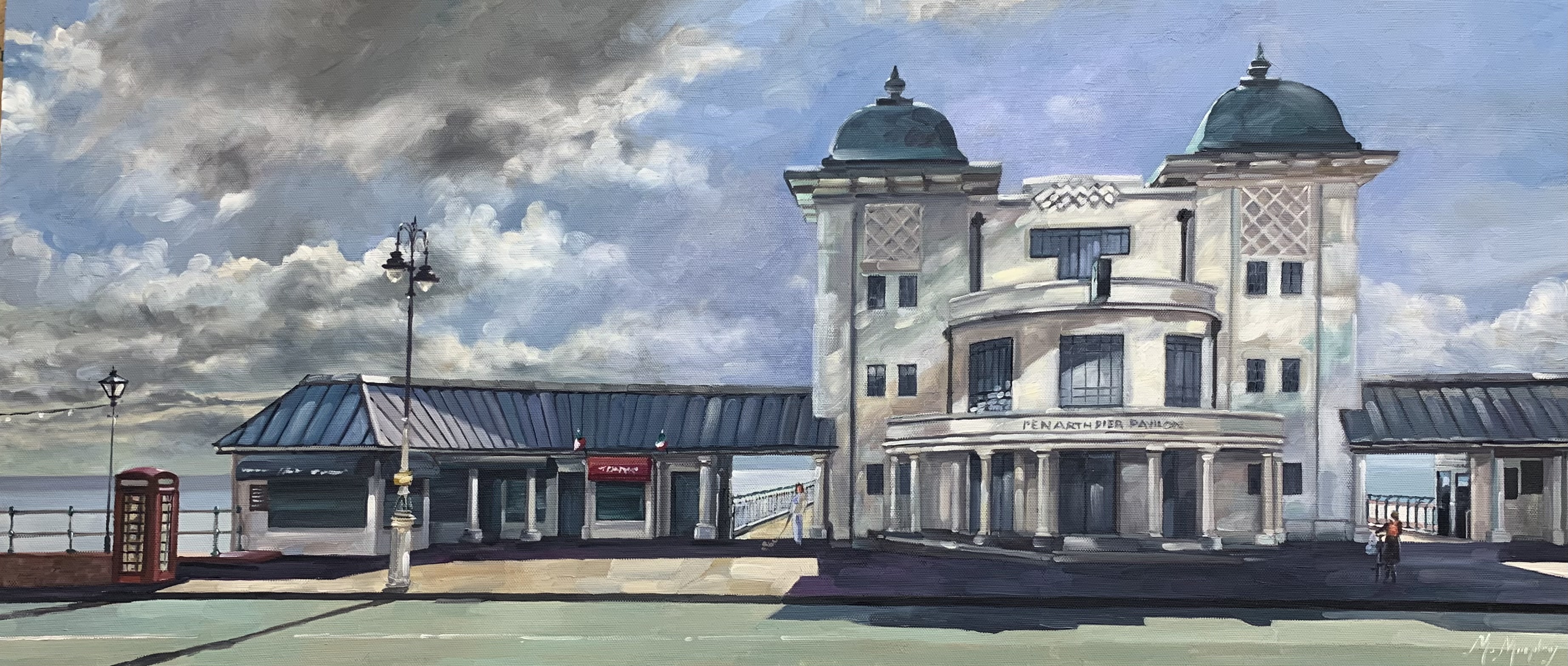 Malcolm Murphy has painted popular Cardiff places such as Wellfield Road, Penarth, Cardiff Castle and Park Place. His paintings use a range of mediums to portray expression and motion in the human form and from a diverse range of subjects, past and present, he attempts to discover in a descriptive environment the soul of his subjects and leave a sense of intrigue.
Malcolm, from Cardiff, is an award-winning artist and traditional craftsman who also carries out work as a professional fairground artist and regularly works on large scale murals for a variety of adventure parks across the UK. He is excited to be returning to the gallery that he used to visit as a youngster.
"Looking back 18 years ago I used to work in Lochaber Street Roath, just up the road from the Albany Gallery. I would always use the opportunity to call in and marvel at the glorious artwork they would have on show.
"A fond memory would be leaving work on a dark winter's night and seeing the Albany Gallery still open with the lights glowing and lots of people as silhouettes looking at the artwork, I used to know it was a private opening night and wished it was myself taking part in the show. Little did I know 18 years later I would be included in the Gallery.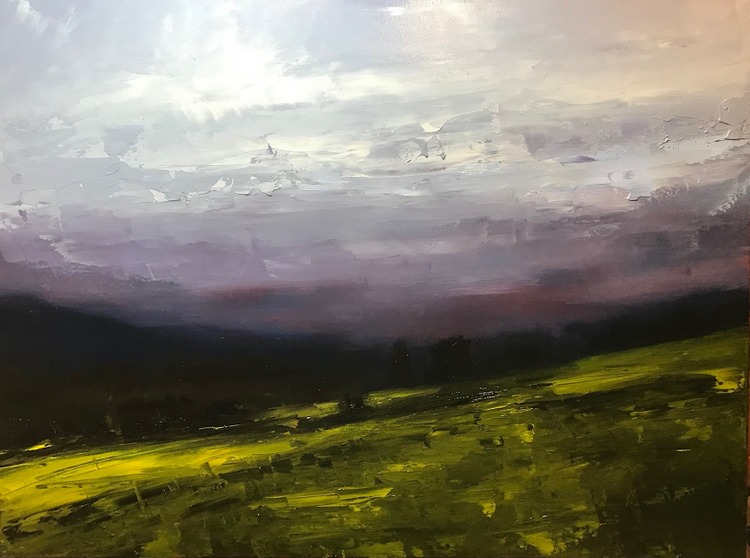 "I used to set off in the early days painting scenes of Cardiff and further afield with a view to hopefully having the paintings on display with such a prestigious Gallery."
Work from secondary school PE teacher and artist David Williams is also on show. He draws inspiration for his paintings from the landscapes of South and West Wales, and predominately the Vale of Neath.
He says: "My current body of work are oil paintings of the Vale of Neath. The landscape is very familiar to me and I am able to draw on this in conveying my impressions of the fields, mountains, forests and skies of the area. I take my inspiration from the light and atmosphere of the place and the goal for each painting is to capture the initial visual impact it has had on me.
"The process starts with on-site sketches and photographs, followed by drawing the composition on canvas using brushes. The paint is applied by palette knife. Using the palette knife I am able to create a variety of layers of paint and textures which I find particularly satisfying.
"Once the composition and first layers of paint have been applied the finished painting is completed quite quickly. I prefer to finish a painting in one sitting if it is a small piece, or work in two-hour blocks to complete in a day. Rarely does a painting take me longer than two days to complete."
---
Shining the spotlight on North Wales

Our latest exhibition celebrates work from several North Wales artists as well as a collection of paintings from the late artist David Barnes. The show features paintings from Russ Chester, David Grosvenor, Diane Metcalfe, Rob Piercy and Siôn McIntyre.
Russ Chester studied Art and Photography at Newcastle Upon Tyne College of Art & Technology, before moving to Wales and he said his artwork shows off the beautiful landscape that he is proud to call home. He has lived in Tremadog, Gwynedd for the past 40 years.

He says: "When I received an invite to show my work as part of the exhibition, I knew straight away which paintings I wanted to submit. All of the works have been chosen to encompass not only the incredibly varied landscape Wales has to offer, but also the various colours and techniques I employ in my painting process.
"While I'm known for my depictions of the rugged mountains and scenery of Eryri (Snowdonia), I'd become intrigued to see if I could make the immediate foreground the focus of the painting. People presume my paintings are highly detailed; on closer inspection they discover that any imagined details suddenly dissolve into seemingly random textures and techniques, and I wondered if I could apply this process to the confusion of grasses and wild flowers carpeting our fields.
"People also quickly realise that I'm more than happy using palette knife, fingers or any other tools I have to hand, but they're generally horrified to see the state of my paint brushes which I deliberately abuse to within an inch of their life.
"After working outdoors for over thirty years, I feel driven to describe the Wales I've encountered along the way; not only as a place of enormous astonishing beauty but also as a place of quiet change and human attachment."
Rob Piercy has been painting professionally since the early eighties. He trained as an art teacher and taught until 1990 when he decided to take the brave move to give up his teaching role and concentrate solely on his painting.
Rob is an experienced mountaineer so it's perhaps not a surprise that his favourite subject matter are the mountains, in particular his native Eryri (Snowdonia) and, like Russ, he says his paintings sum up the passion and love he has for nature.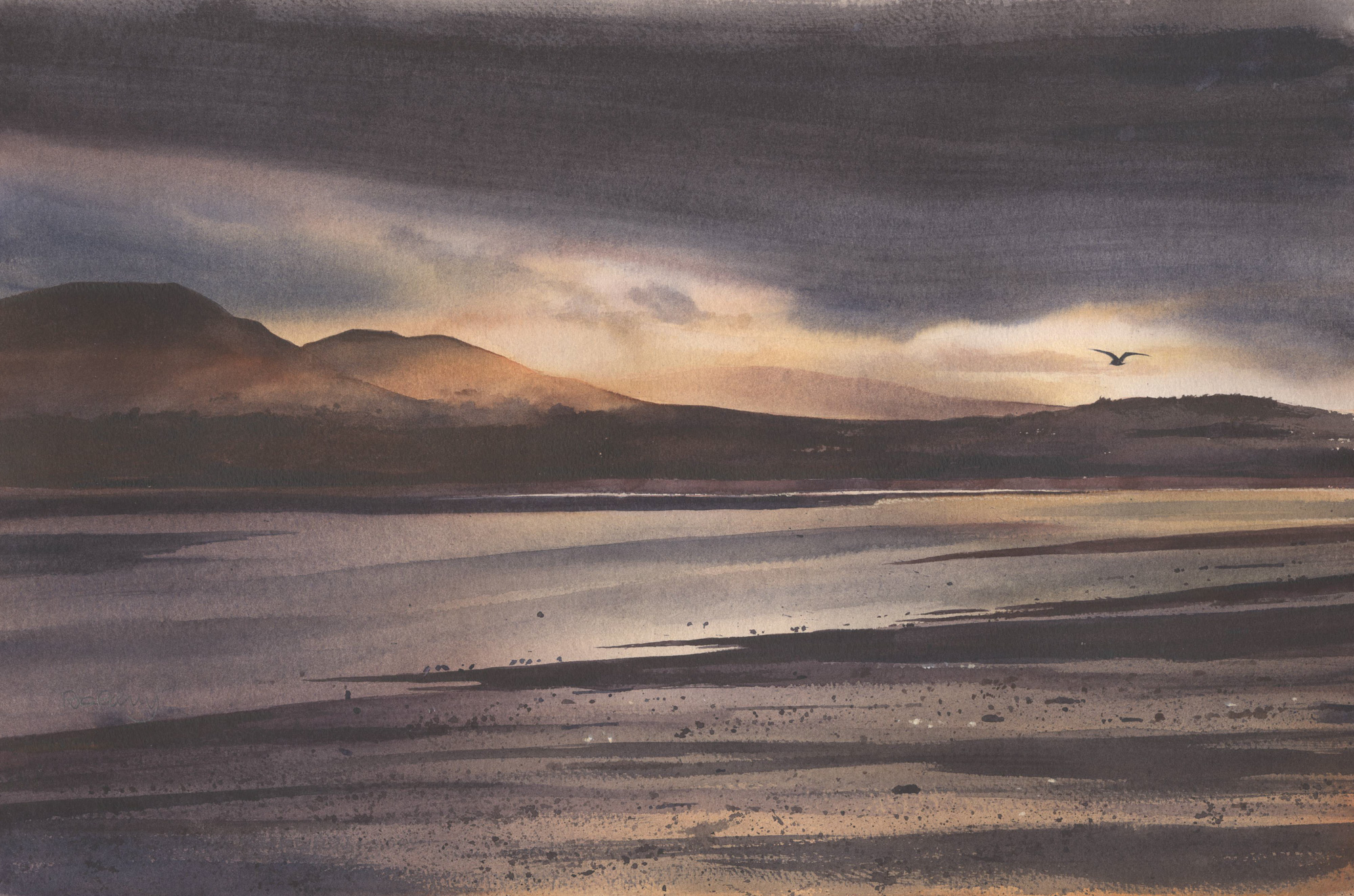 He says: "I love being amongst nature, the wilder the better, and I love painting nature, as it is. I am also transfixed by the surprise of the unexpected, like the sudden appearance of light on a mountainside or valley. Fact is, light is everything, it is the one ingredient that drives my art. It is a very simple yet powerful philosophy.
"I can truthfully say that every painting I have completed I have experienced being there, every sunset, every storm, every still quiet moment. Being amongst the transient nature of this satisfying yet often hostile environment is my inspiration.
"Recently I have been discovering some of the interesting nooks and crannies that are hidden away in old farm buildings and these subjects appeal to my love of drawing. A few of my pieces have been painted on the wonderful Khadi handmade paper from the foothills of the Himalaya. Wonderfully responsive to experiment. Watercolour needn't be blatantly two dimensional it can be full of texture and colour."
There are also paintings on show from artist David Barnes, a great friend of the Albany Gallery, who sadly passed away in May, 2021.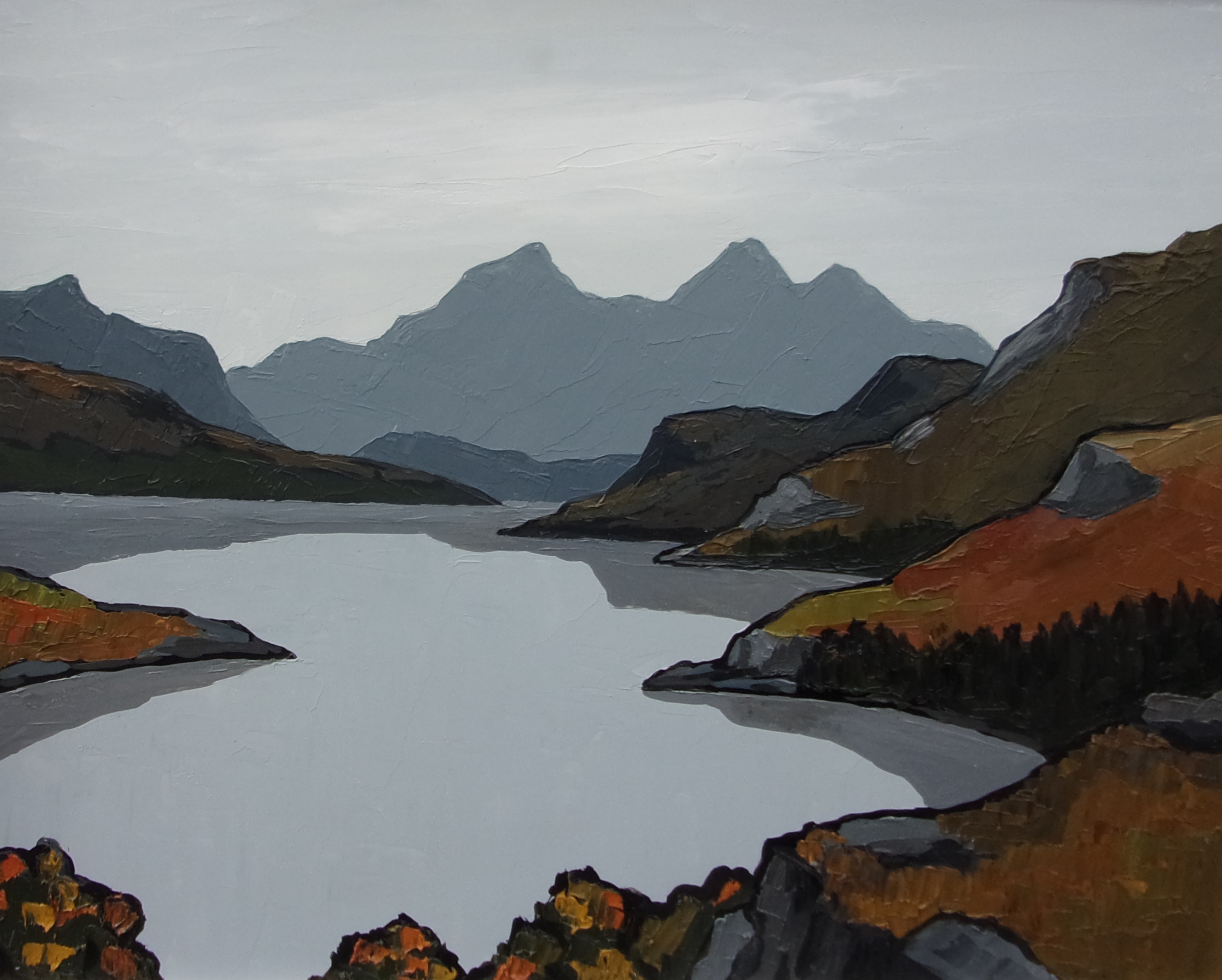 A former chartered accountant, he worked at the Open University and, although he enjoyed art at school and has been an art collector for many years, it wasn't until he retired in 2006 that he began to paint seriously, progressing very quickly after spending many hours in the studio.
Elizabeth Campbell, current co-owner of the Albany Gallery, has fond memories of David.
She said: "In 2007 a new artist by the name of David Barnes brought in some work for appraisal by the then owner of the gallery, Mary Yapp. I had only been working at the gallery a short time and while he waited for Mary to arrive, we chatted and he told me that if Mary didn't approve of his work he would take it home and burn it! Mary told David that his work showed potential but suggested he should have some tuition and come back in a year's time.
"I knew that David would get rid of the paintings so I asked if I could buy one of them - David let me have it for £25, the cost of the frame. Little did I know then that I would buy the first of many David Barnes' paintings sold in the gallery. David took Mary's advice and he did return a year later and exhibited 30 paintings in the Christmas show in 2008, most of which sold. He went on to become one of the gallery's most successful artists. He had two solo exhibitions and several part shows, his last being in 2020."
David's paintings capture the greys and browns of a North Wales landscape with brooding intensity. Like Russ and Rob, the inspiration for much of his work were the mountains of Snowdonia and the coastline of north Wales and Anglesey.
The show runs from 10 February - 4 March.
---
Original Artists' Posters Exhibition 2023
For some time now in collaboration with Goldmark Art we've been advocating artists' posters as a great way to own affordable works by the very best.
Many of the leading 20th century artists enjoyed designing their own exhibition posters, often in the form of original lithographs printed by some of the great Parisian print ateliers such as the Mourlot Frères studio.
While the poster, by nature, is ephemeral and mint copies are rare, they remain a relatively inexpensive way to buy original prints by artists like Picasso and Matisse and are hugely flexible to display, working in harmony with a broad range of other artworks, styles, and interior settings.
The exhibition includes more than 40 framed vintage posters and runs from Friday 13 January until Saturday 4 February 2023.