An interview with Kyffin Williams' godson, Nicholas Sinclair, in honour of the centennial
Jessica Bancroft, 15 March 2018
View here: Intimate portraiture & the centennial of Kyffin Williams RA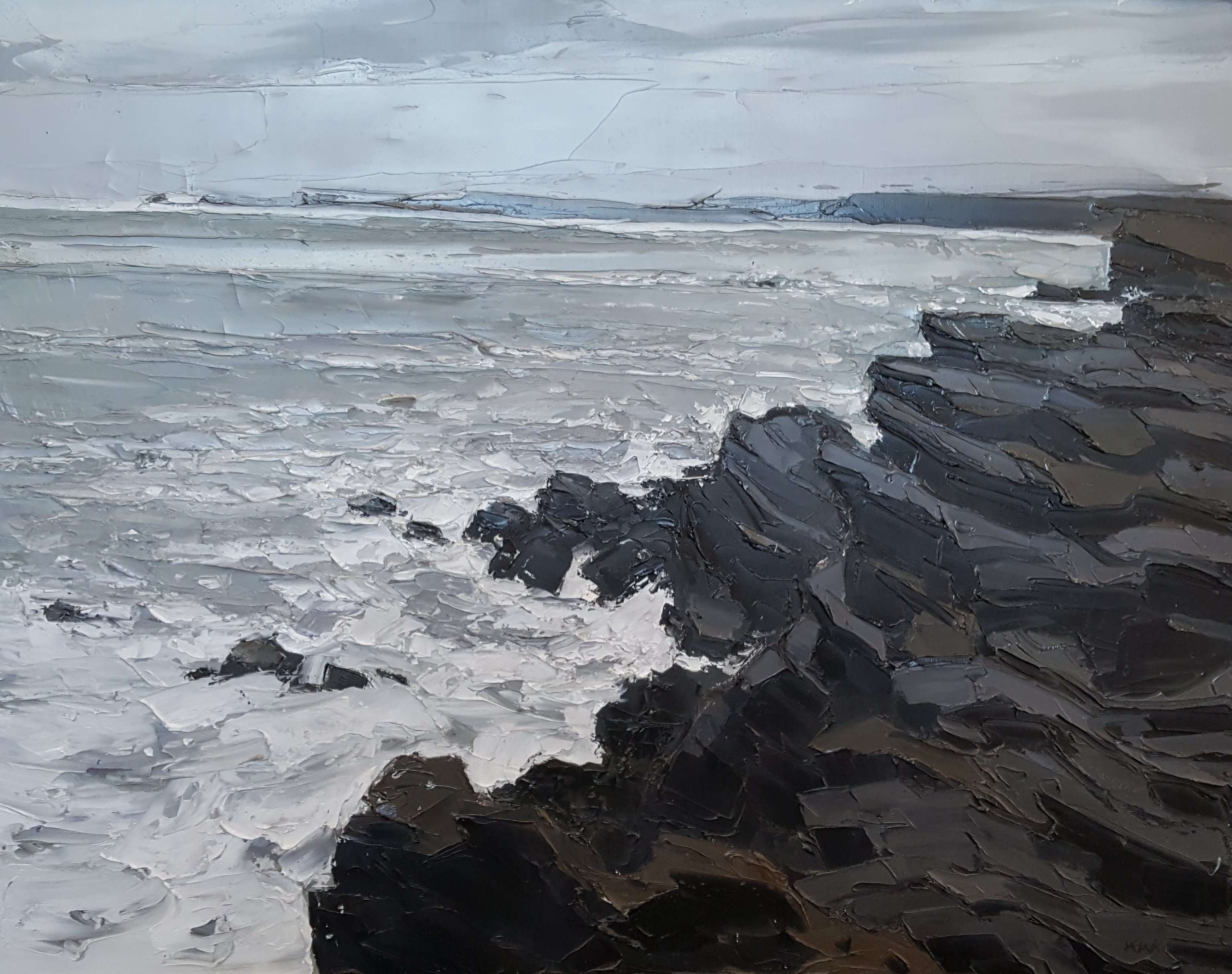 Kyffin Williams RA, ROUGH SEA TREARDDUR BAY, 28x36 inches
---
New exhibition from hotly tipped young painter Peter Kettle RCA FRSA records Patagonia trek and adventures in Wales
Jenny White, March 2018

A remarkable body of work by Peter Kettle RCA FRSA, painted in Wales and Patagonia, goes on show at The Albany Gallery.
One of the UK's most hotly tipped young artists, 30-year-old Kettle has been featured in MoneyWeek magazine as one of the "young Turks of the art world" and has already achieved membership of the Royal Cambrian Academy and become a fellow of the Royal Society of Arts.
Born in Wales, Kettle has an enduring fascination with the Welsh landscape, particularly the lights and textures of its coastline - but for his new show he also explored another landscape with intimate links to Wales: the mountains and desert of Patagonia.
The motive for the trip was twofold: first, he wanted to follow in the footsteps of the Welsh settlers who sailed to Patagonia over a century ago and whose descendants still maintain a strong Welsh identity.
He also wanted to pay homage to the famous Welsh painter Sir Kyffin Williams, who made his own trip to Patagonia in the last century. "A few years ago, I saw a lot of the landscape paintings Kyffin made there and I was struck by how different his palette was when painting Patagonia. I wanted to understand why he chose those colours, and to experience the places he visited," says Kettle.
Just as Williams did, Kettle has a passion for plein air painting, and for his Patagonia trip he took not only sketch books but also a six-metre canvas which he unrolled on arduous mountain hikes to record his experience of the landscape, using dirt from the ground as one of his painting materials. "Getting out there and seeing the sunrise and sunsets was extraordinary - the light is completely different," he says.
Back home in the studio, the work from the canvas led to four new paintings, while his copious sketchbook notes led to many more.
A mixed media artist, Kettle has broadened his choice of materials for this show, incorporating French chalk and shellac along with his more familiar ink and oil paint. The pictures reveal that as well as discovering the sites Kyffin painted, Kettle also found his own Patagonia - a land of earthy tones and unearthly light.
Back in the UK, he also completed a new body of Welsh work. Now based in Bristol, Kettle makes frequent painting forays into Wales and is well known for his depictions of the industrial architecture of the Port Talbot Steelworks as well as for wilder coastal scenes. For this show, he ventured further west along the coastal path into Pembrokeshire.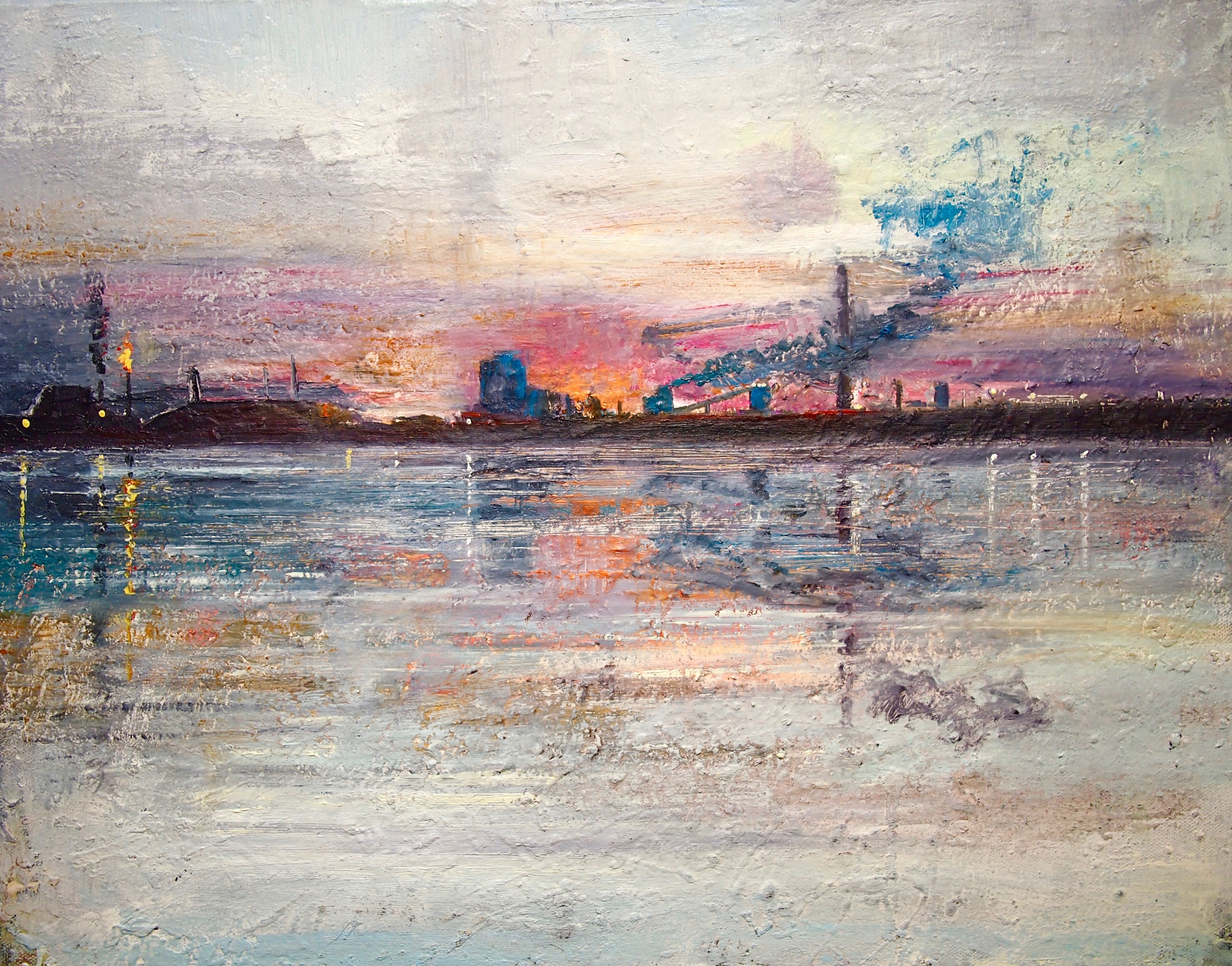 "I'm fascinated by the story of Wales, and how settlements were created within that landscape," he says. "The Welsh landscape can be wild, windy and wet yet it can also be serene and beautiful, and within a short distance of a couple of miles you can experience both. This is something that has drawn me back time and time again."
Kettle's style has been shaped by that love of landscape, and the influence of such greats as Anselm Kiefer, Joan Eardley and John Piper is also evident. Perhaps most striking of all, however, is that this is an artist who relishes being outdoors amid the elements, experiencing his subject at first hand - even if that does require a long trek up a mountain - and after hisPatagonia experience, he promises to take his canvases to further far flung places soon.
"I loved taking the canvas up those hills - it is something I have always enjoyed doing in Wales and to be able to do that continuously for 4 weeks in a new landscape is an experience I want to repeat," he says.
---
Wales' diverse and beautiful scenery captured in new Albany Gallery show
Jenny White, February 2018

From light gleaming through a chapel window to the sun blazing on a south Wales beach, the four artists in this exhibition capture some of Wales's most enchanting moments and magical scenery, creating a diverse and inspiring snapshot of Wales in all its moods and seasons.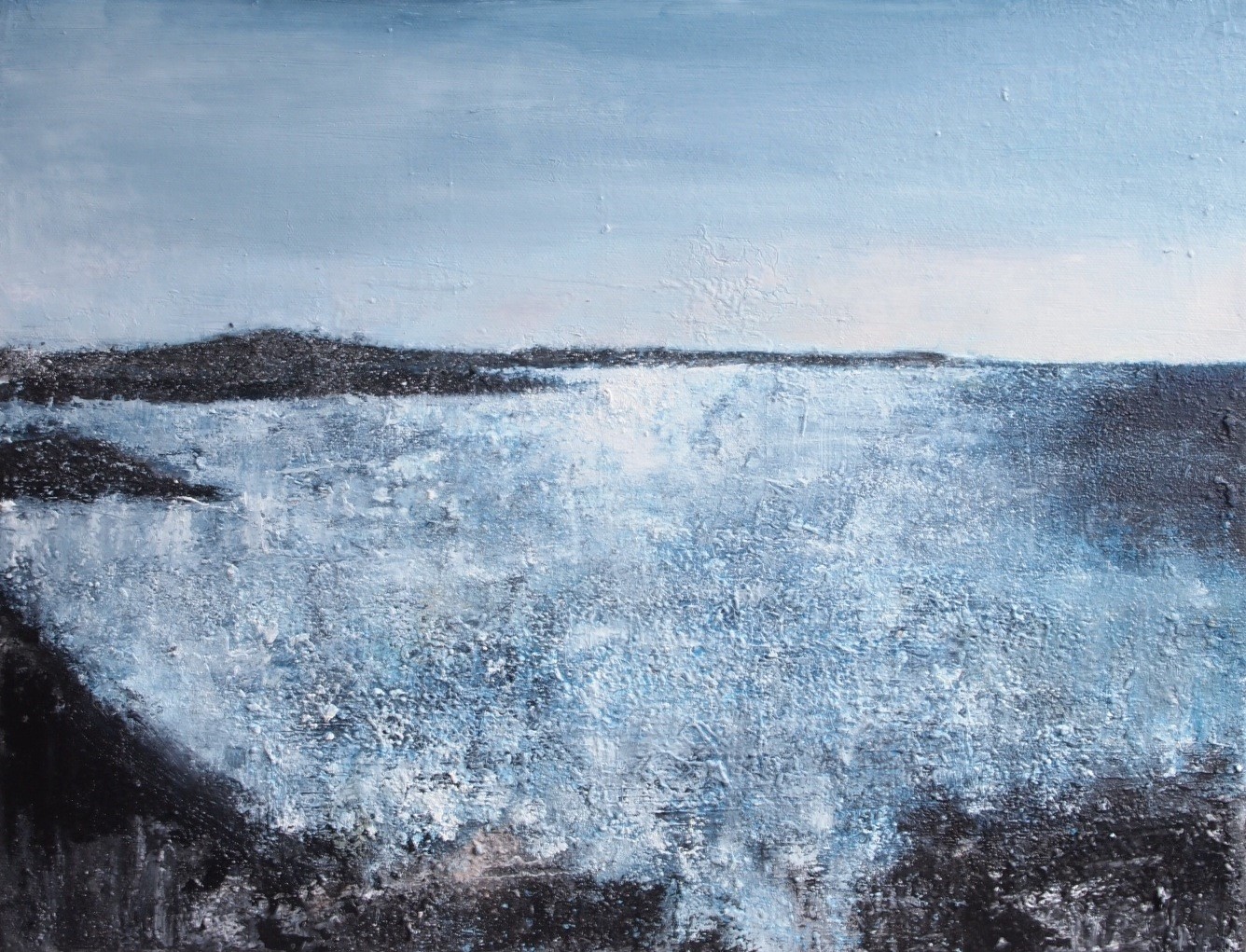 Cardiff-based painter Mike Carter, who was one of three artists featured in the BBC2 programme about the RA Summer Exhibition last year, captures the moodier side of the Welsh landscape. He is fascinated with the point where the land meets the sea. Inspired by energetic and expressive painters such as Kurt Jackson, he combines different materials through a layering process such as charcoal, chalk, sawdust, PVA, black ink, acrylic and oil paint to create a range of effects and marks.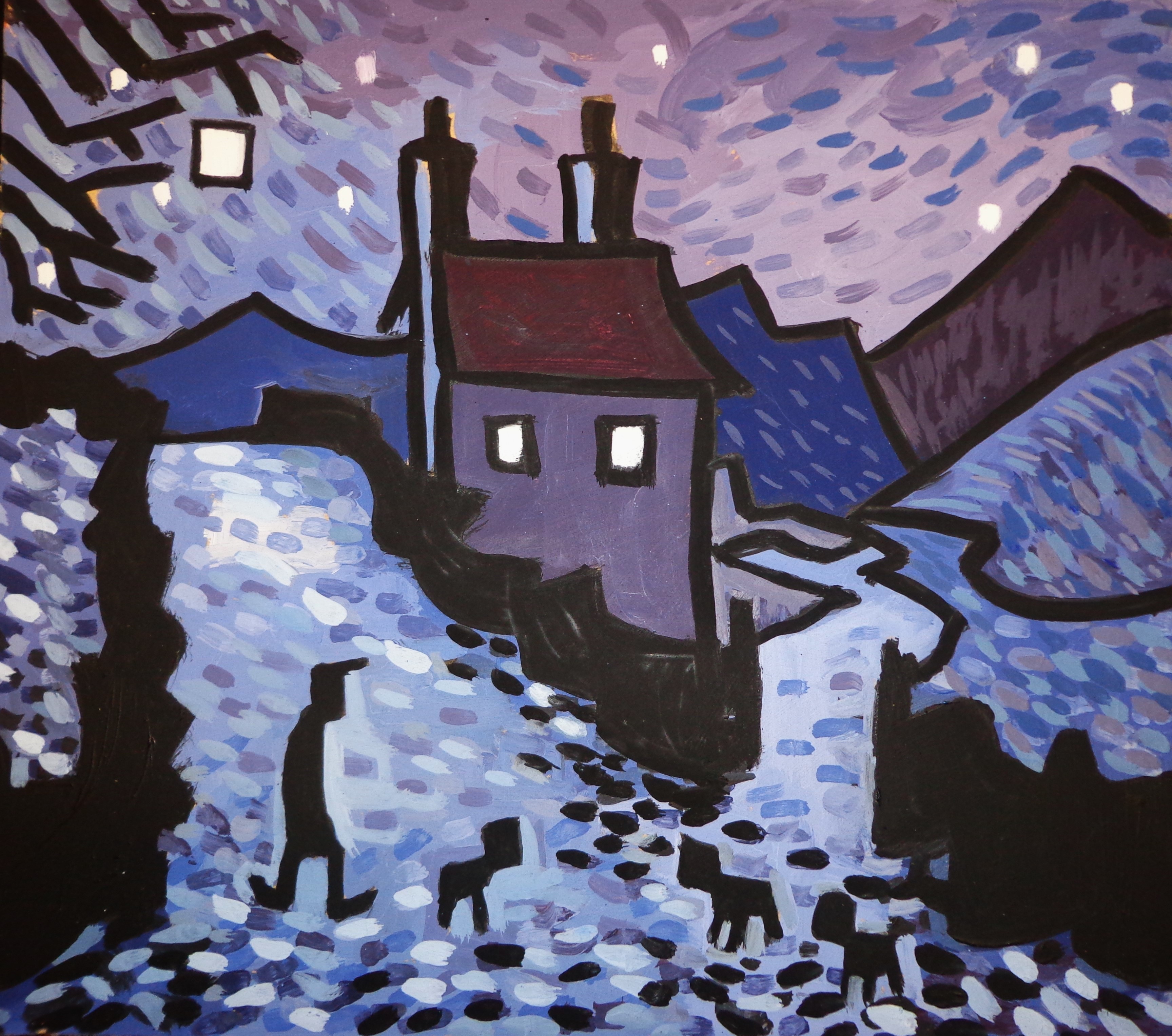 In contrast, valleys-based painter Karl Davies turns his attention inland, capturing a world of lonely farmhouses, mining villages and moonlit walks. He uses a mixture of deliberate and intuitive brush marks in each composition and prepares numerous sketches before beginning a painting. Recently he has begun to explore more complicated compositions including architecture and figures and he aims to capture atmospheres and the seasons.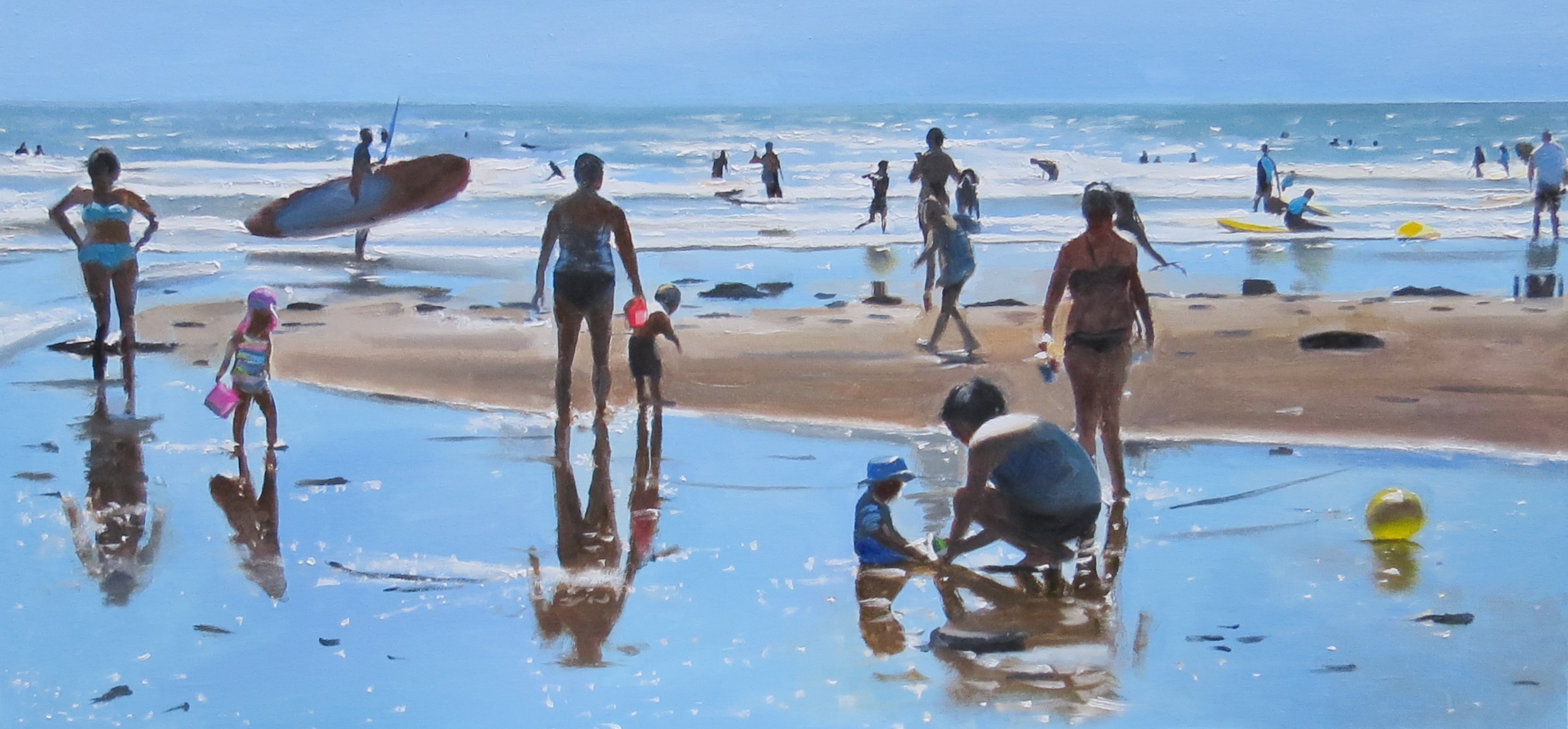 Dai David, who lives near Craig Y Nos in the Swansea Valley, loves the Welsh shoreline in summer. His sun-drenched paintings capture families at play, beachcombers and boats - although he is also known for his depictions of the green, rugged grandeur of the Brecon Beacons. He aims to express the ephemeral beauty and wonderful nature of light, whether it be an intimate, solitary portrait, a joyous group study, or sun-kissed landscape, it is the actual light falling upon the subject that inspires him to paint.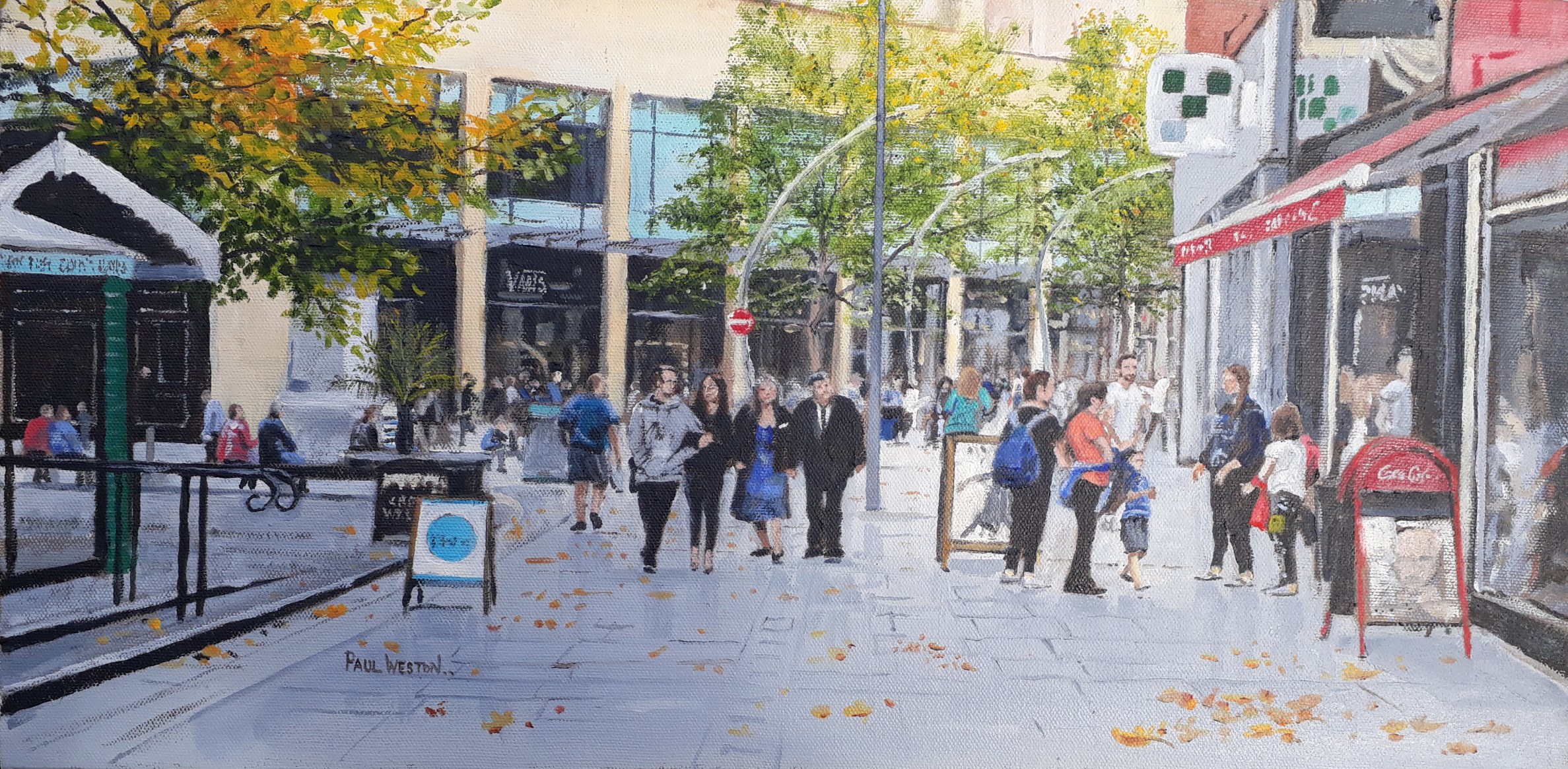 Cwmbran-based painter Paul Weston has a similar scope, creating evocative, sunny seascapes and sweeping views of the Brecon Beacons and Black Mountains. He also paints Wales' post-industrial scenery around Blaenafon and the eastern valleys of Gwent, and ventures into Cardiff to paint city scenes. His watercolours concentrate on fine detailed brushwork, capturing accurate scenes of the hills, valleys, countryside and coastline. His oil paintings are much looser, painted quickly with a greater freedom, whilst retaining elements of detail and they are painted on the spot whenever possible.
---
Original artists' posters by some of the 20th century's greats
Jenny White, January 2018

Artist-designed posters from exhibitions held by such greats as David Hockney, Andy Warhol, Marc Chagall, Pablo Picasso, Henri Matisse and Joan Miro are on show this month.
Many of the leading 20th century artists enjoyed designing their own exhibition posters, often in the form of original lithographs printed by some of the great Parisian print ateliers such as the Mourlot Frères studio.
"The show is a rare and affordable opportunity to buy work by big names," says Albany Gallery owner Mary Yapp. "Most of the posters were produced in the 60s and 70s, and they still feel as alive and vibrant today as when they were first issued".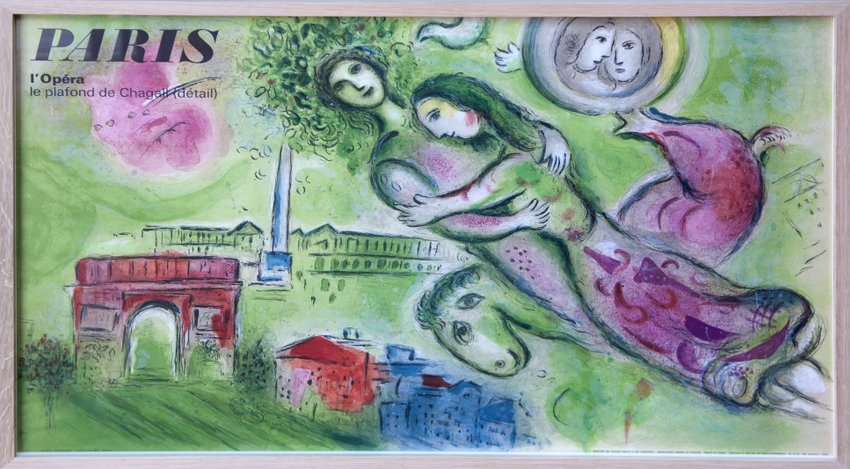 The posters were usually designed by the artists in collaboration with a designer, and the combination of original art and graphic elements also lends the poster a cooler, less 'stuffy' feel, allowing them to hang as easily in an informal creative office as they would on an upstairs landing.
As the posters were designed with a specific function in mind, they are usually large in size, and make a big impact.
Unsurprisingly, artists' posters have always been popular and in recent years have become highly sought after. Their appealing design, relative scarcity, and their built-in history and contextual background with the exhibition they were attached to have meant these prints continue to entice long-time buyers around the world.
"Because of their distinctive feel and tone, with original artwork and graphic design working in tandem, posters look especially good when put alongside one another and make for wonderful collectible sets on their own, as well as special works within artist-specific collections," says Mary.
"Although they are relatively rare, the posters are surprisingly affordable. Most artists' posters in this exhibition can be bought for anywhere between £500 and £2,000 depending on their rarity, condition and collectability. However, we do have one special poster signed by Picasso himself which will be for sale at over £10,000," she adds.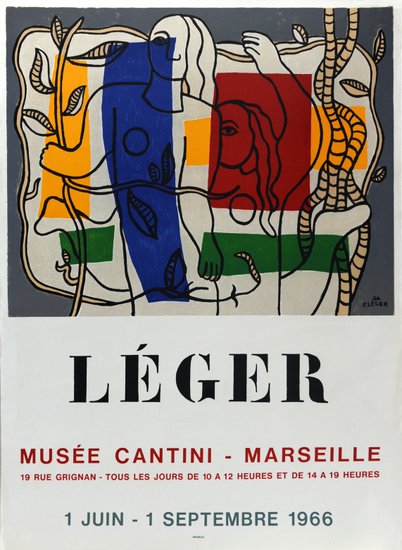 Original paintings and sculptures by artists like Picasso, Matisse, Miró and Braque can fetch many millions of pounds in auction houses. "While those prices remain out of reach for most of us, artists' posters offer the chance of owning an original work of art by hugely important artists for mere fractions of those prices," says Mary.
This exhibition is being held in collaboration with Goldmark Gallery, in particular Mike Goldmark, whose association with The Albany Gallery goes back many years. Goldmark Gallery is a family run business that has been selling art in Uppingham, Rutland for over 40 years.